Is there anything more indulgent than a long lunch? When you've got good food and drink, great company and the whole afternoon to knock yourself into a food coma it makes any other daytime activity seem pretty drab.
To ensure you get maximum enjoyment from your next long lunch location, we've wrapped up the best places in Brisbane to take a long lunch.
Hellenika
Fortitude Valley
Housed on the rooftop, and overlooking the very classy open-air pool of boutique hotel, The Calile, Hellenika is peak summer hangs, giving off serious greek island vibes, which translates very simply as the perfect day-to-night, drinking and dining haunt James Street was hanging out for.
Motorwagen
Brisbane CBD
Whether you want a classic fish and chips or something more adventurous, the airy, vintage Mercedes-Benz-inspired Motorwagen is a dreamy spot for a long Friday lunch—or any day of the week really, we're all about long lunches on a Tuesday. There's a snappy cocktail and wine list to pair with your meal, and you'll definitely want to stay a little longer for one of their next level desserts to finish things off.
Greca
HOWARD SMITH WHARVES
Part of the Apollo family that has laid roots in Sydney and Tokyo, Greca is a contemporary Greek taverna poised on Brisbane's shores. Taking up prime waterfront real estate, Greca is the perfect setting for Greca's Greek feasts, being both close to the water and an example of a modernised classic. Already, the notable standouts on the menu are the grilled octopus, baked lamb shoulder, and the grilled saganaki drizzled in local honey, but the Full Greek set menu is your best bet if you want the full gustatory tour.
NOTA
Paddington
A game-changer for Paddington, Nota is the elegant, relaxed restaurant we've all been waiting for. Owners Sebastian de Kort and Kevin Docherty have always envisioned Nota as a place where customers would sit down to uncomplicated dishes with a focus on quality and seasonality.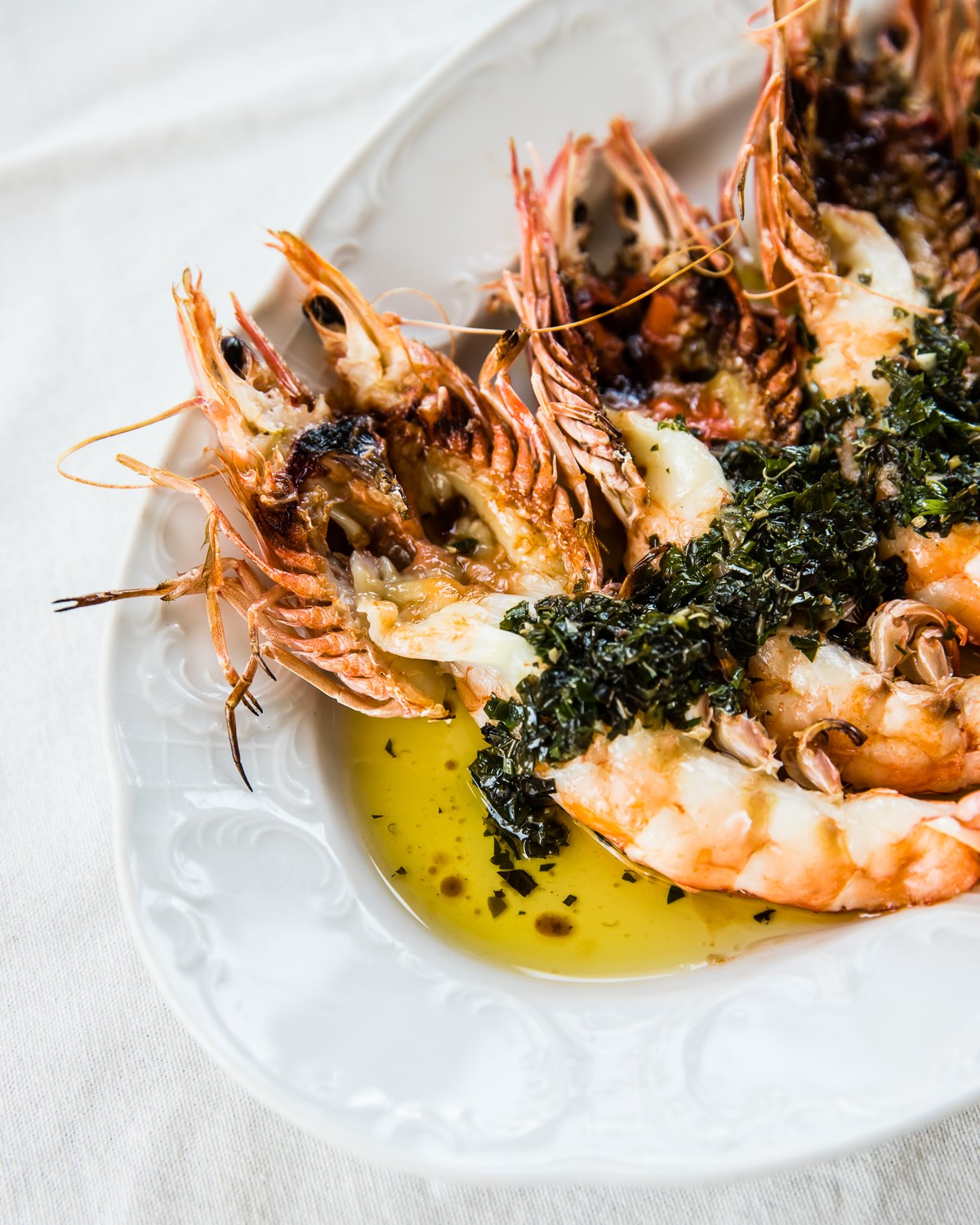 One Fish Two Fish
Kangaroo Point
Top notch seafood, bucket loads of booze and a Queenslander-style setting—what more could you want in a long lunch spot? The only thing that could make One Fish Two Fish better is bottomless rosé—oh wait, they do that too. Every Sunday afternoon, you can pair two hours of bottomless rosé or Balter XPA with a feast of kingfish sashimi, salt and pepper calamari and flounder goujons followed by your choice of main. The ultimate summer Sunday lunch in Brisbane.
Gerard's Bistro
Fortitude Valley
Gerard's Bistro doesn't need an introduction, though their new head chef Adam Wolfers might. The smoked cabbage skewers will ruin all other cabbage for you, while the grilled broccolini with macadamia and goats curd will have you contemplating whether you can actually spend the rest of your life just living off broccolini. The menu is made to share, too, so gather your buds and get ready to feast.
Riverbar & Kitchen
BRISBANE CBD
If Riverbar isn't your go-to long lunch spot, we don't know where is. Seriously, it has it all: epic panoramic river views, sunshine aplenty, food perfect for sharing and a killer drinks menu. We really can't think of anywhere we'd rather spend our lunch.
Maya
Fortitude Valley
Once you're ensconced in a plush blue booth at Maya overlooking the city views, you won't want to leave—so you'd best not have any plans for the rest of your afternoon. The first thing you order should be one of their incredible cocktails, before you choose from crispy prawns flame-grilled in tequila, garlic and chili oil, kingfish ceviche or battered jalapenos stuffed with frijoles to nibble on.
Darling & Co
Paddington
Both Darling & Co's glam, sunlit bar and fringed dining room are the ideal spot for a long lunch—the only challenge will be deciding whether you want a plush blue booth in the restaurant or you'd prefer to just down bottomless bubbles from the prosecco and spritz fountain in the bar. That's right, a prosecco and spritz fountain. It comes out every Sunday from 2pm and you'll get tasty grazing boards paired with prosecco and spritz for $60pp.
Julius Pizzeria
South Brisbane
Julius Pizzeria is easily one of the best pizza joints in Brisbane. Big call, but true. You'll be hard pressed to find something on the menu that won't hit the spot. The calamari is too tasty for words, while the Number 1 pizza's name says it all: it's freaking delicious.
Rico Bar & Dining
Brisbane CBD
Sangria and paella by the river—what more could you want in a Brisbane lunch venue? Bonus, Rico is a stunner of a spot, kitted out in pastel pinks and chrome lamps, with a breezy outdoor area filled with bar seating under striped umbrellas for pre-lunch drinks or post-feed cocktails to keep you hanging around until late afternoon.
Libertine
Paddington
Not only is Libertine one of our fave spots for date night option, but it's perfect for long lunches. The courtyard dining area is just the place to settle in to for an afternoon of drinking lychee cocktails while you tuck into lamb dumplings and crispy pork belly with a side of DIY green papaya salad.
Greenglass
Brisbane CBD
Greenglass is the definition of a hidden gem. Perched atop George Street, behind a hole-in-the-wall doorway, next to a topless bar, we'll forgive you for walking past Greenglass a million times without realising it even existed. Don't be discouraged by the entrance either, the anonymous stairs and eerie space leads to a seriously breath-taking, light-filled space, and an even better menu. Inspired by the tastes of France, the menu is affordable yet fancy.
e'cco Bistro
Newstead
e'cco Bistro is the pinnacle of Brisbane dining. Headed up by legendary Brisbane chef, Philip Johnson, the ever-changing menu at e'cco Bistro needs to be eaten to be believed. Think bistro dining, with a serious dash of fanciness thrown in. Chicken liver parfait, confit lamb oyster blade, dark chocolate marquise…we're drooling already.
Here are Brisbane's most beautiful cafes you need to hit up.
Image credit: Grace Elizabeth Images for Urban List, Darling & Co